As a Steel Service Center operating for over 45 years, we know the ins and outs of the steel slitting process. Hascall Steel has recognized the enormous benefits of bringing as much of that process in house, which is why we pride ourselves on keeping knife and tooling management under our own roof. Being able to sharpen our own knives on site not only benefits our internal work, but ultimately benefits our customers.
Slitter knives are made from special hardened steel.  They need to be maintained in a way that allows them to be able to cut steel from a quarter inch thick all the way to 14 thousandths of an inch. Our knives range in width from 5/8 inch to ¼".  Depending on several factors about the raw material itself and the requirements of the customer's order, knife clearances, both horizontal and vertical, must be carefully calculated with extreme attention to detail across the slitting head. Hascall Steel's slitter operators are specially trained to calculate these clearance numbers and build the slitter head in a way that produces the perfect cut. In order to determine if the perfect cut was achieved, the proof can always be found on the slit edge. (Cut and Break)
What do the Slitter Knives tell us?
Perhaps the best thing about utilizing tooling management "in house" is the timely and accurate communication between production and maintenance on the health of the knives.  The knives can actually signal if there is a problem with the cutting machine itself.  Observing the knives after a cutting session and finding a problem with the cut will usually either signal that the slitter head w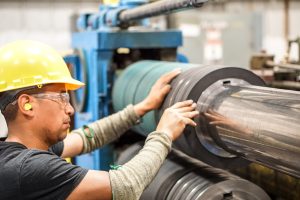 as not clean or perhaps the knives need sharpening.  The very act of slitting steel will dull or damage slitting knives. In addition, slitting a variety of steel, like Hot Rolled/Cold Rolled/High Strength Materials can cause excessive wear on the tooling. This requires the entire set of slitter knives to be removed from service and sent out to an outside grinding company for refurbishment.  At Hascall Steel, our refurbishment is located in the same building.  This provides extremely quick turnaround time for grinding, allowing the tools to reenter production quickly. It also allows the production supervisors and operators to give feedback to the refurbishment technician, resulting in longer knife life and less aggressive grinding sessions. Inspecting the knives for damage provides excellent feedback for the operator, which is a big reason Hascall prefers to perform tooling refurbishment in house.
In House Advantage
With other steel service centers, you may find that your cost is higher and your steel order takes longer to be delivered. If the steel center is using an outside vendor for their knives grinding, it can take upwards of two weeks to have them sharpened and returned to the center, causing a slower process than necessary. We notice the important benefits of having our sharpening process completely in house because it eliminates the need for these vendors. Having in house knife and tooling management has cut down on this turnaround time and allowed for a half day turnaround. This much shorter turnaround time not only cuts wait time, but also cuts down our price for our customers as well.
How Hascall Makes It Work
The benefits of grinding and refurbishing your knife sets "in house" are great, but how does the process work as opposed to outsourcing the sharpening and cleaning portion of maintenance? In our facility, only  about half of our knives are being utilized at one time. While one set is being used on a machine, the other is going through the sharpening process, and then staged to be switched out when needed. This ensures that sharp knives are always available to produce good cut and break edges.  Not only does Hascall sharpen their knife sets, but we grind our tooling rubbers as well to stay in correct ratio to the knives. Hascall Steel has highly trained technicians who grind the knives and tooling.  We keep detailed records of the tools and their refurbishment history, allowing for just the right frequency of sharpening.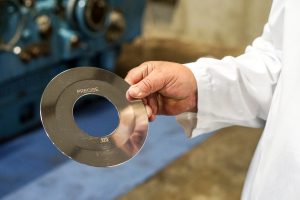 Because of our expertise in knife and rubber grinding, we find ourselves also grinding knives for other service centers.  In fact, we have become a source for knives and tooling resources to the slitting industry.  We are proud of our affiliate company PRECISE TOOL AND KNIFE. If are looking for Slitter knives, tooling, steel overarm spacers, or separator disks call Rick Jordan at 616-291-5976 for a quote. 
Whether it's utilizing in house knife and rubber grinding or answering customer calls, Hascall Steel continues to deliver the fastest turnaround time, with the tightest tolerances, at the lowest price.