The following article was recently published in the TEC (The Executive Committee) October Newsletter. Congrats to our very own Chris VanWingerden for being featured!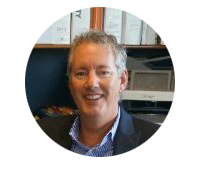 Name:  Chris VanWingerden
Company:  Hascall Steel Company
Industry:  Metal Service Centers, Steel Distribution
Employees:  160 in USA
Family: Married 23 years to Kristy, son Case just off to College, daughter Noelle a sophomore in High School.
Give TEC a brief history/overview of your company: Hascall Steel Company has been in the steel processing and distribution business since 1971. Today we operate in four locations across the United States. We provide flat rolled steel coil and sheet to manufacturers in the automotive, agricultural, and specialty products industries. Our specialty is coated products, in small to medium quantities, that others find difficult to source. We are known for our rapid response to customer orders, which makes us the trusted choice and recognized experts in our niche.
What one piece of leadership advice would you offer to others: Always approach the privilege of leadership with a servant's heart. Your job is that of SERVICE to those you lead; others before self.
What are your interests outside of work: I am an avid instrument rated pilot, and absolutely love flying for work and pleasure. For me, it is pure joy to plan a flight and then execute it safely.
I also am quite active in my worship community.
How did you learn about TEC: When I became President of Hascall Steel, a fellow business associate mentioned that her company president was attending TEC.   I was invited to a meeting, and really saw value in the presentations, the accountability, and the peer to peer counsel.
What has TEC done for you personally and/or professionally: On a personal level, TEC has increased my confidence in directing the daily affairs of our family of companies. I am no longer alone in this role, but have a network of individuals who are in similar circumstances.
Professionally, Tec has given me multiple opportunities to deploy techniques and strategies inside Hascall Steel. I always receive VALUE from the speakers, and more often than not am able to use what I've learned. In addition, the sharing of "issues" amongst my fellow TEC members has been the equivalent of a board of directors for me. It's invaluable.
But aside from these things, I also need to recognize the greater leadership team at Hascall Steel Company. They have been very gracious and accepting of my introducing "TEC" concepts into practical application. This team has embraced the changes, and really made great progress in carrying forward their individual assignments in our greater strategic plan.   This is a result of our taking a step back and defining our Vision/Mission/Brand/Core Values, and establishing initiatives to support these items. Had I not been exposed to TEC, I doubt we would be in as positive a place as we find ourselves today!